What's New
Keller 5100-LT Series Fiberglass Lightweight Extension Ladder
The 5100-LT series Lightweight Performance Fiberglass Extension Ladder utilizes new fiberglass technology which allows the ladder to be up to 12% ligher than standard Type IA fiberglass extension ladders! It has non-conductive rails making this ladder ideal for working near electricity.

Introducing KPro - The Bolder Side of Keller
KPro is Keller's new sub-brand designed for the professional contractor. The Type IA and Type IAA stepladders and extension ladders feature enhancements to ensure strength and durability. You can find all of the KPro products here:
Keller PD974 4 ft Type IA Fiberglass Podium Ladder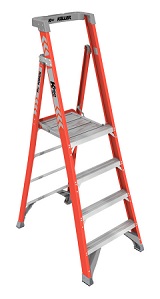 The NEW 4 ft PD974 Podium Ladder offers the same reach height as a 6 ft stepladder and is ideal for working at fixed heights. The extra-large platform with toe guard feels like you are standing on the ground and 4X Work Zone allows you to work facing any direction. The extended guardrail provides an extra point of contact and conveniently organizes tools and accessories.
Keller 3524-AT Aluminum Extension Ladder with Leveling System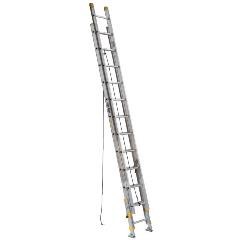 This 24' aluminum extension ladder eliminates the problem encountered by uneven ground with a factory installed adjustable leveling system which exceeds OSHA and ANSI requirements. The dual action feet on the ladder are for use on hard or penetrable surfaces and swivel easily. The D-rungs are slip resistant. This system precisely adjusts in 3/8" increments up to 8' 1/4", making it easy to use. The Keller 3524-AT has a duty rating of 225 pounds making it durable, long lasting, and able to meet the demands of the job. And the lightweight aluminum makes it easy to transport.
Keller AA1510K Aluminum Compact Attic Ladder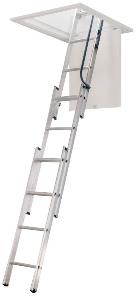 Lightweight and easy to open and close with the included assist pole, the Keller AA1510K Compact Attic Ladder installs into any opening 18" x 24" or larger with ceiling heights from 7' to 9' 10". Duty rated at 250 pounds, the telescoping design gives you quick, hassle-free access to untapped storage space, making it ideal for small openings in hallways, closets, and other tight spaces.
Keller 3500-3 Series Aluminum Compact Extension Ladder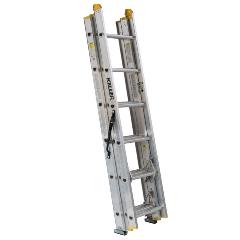 The 3500-3 Series aluminum extension ladders are compact, 3 section ladders that have a duty rating of 225 pounds. Interlocking side rails, slip-resistant D-rungs, and smooth operating spring-loaded locks make this ladder easy to use. Ladder shoes can rest flat or be held in spur position. And mar-resistant end caps help protect the surface the ladder leans against.
Keller KMT Series Telescoping Multiladder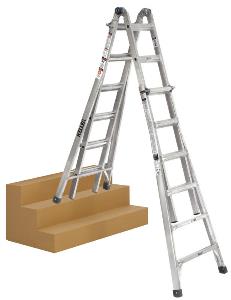 The Extra Heavy Duty KMT Series Telescoping Multipladder has a 300 lbs. Load Capacity, Type IA Duty Rating. Designed for one or two person jobs, the aluminum multi-purpose ladder's telescoping design provides maximum versatility, allowing the ladder to easily convert to Twin Stepladder, Stairway Stepladder, Extension Ladder, and 2-Scaffold Bases. Smooth curved rails make climbing comfortable. The extra wide flared bottom provides firm support. And the double riveted steps offer long lasting durability. The KMT Series is available in 13', 22' and 26' heights. NOTE: When used as a Double Stepladder, the maximum load per side, including person and materials, shall not exceed the duty rating of ladder. The Scaffold position requires a plank and tie down, which are not included with the ladder.