How to Choose
Our goal is very simple: We want to help you better understand how to choose the right ladder for the job.
Four key elements of ladder selection are: Style, Height, Performance, and Material.
FOUR STEPS TO SELECT A LADDER:
Step 1 - Select a Style
Which kind of ladder is right for the job — step stool, stepladder, extension ladder, or multipurpose? The intended task and the work environment help determine the style of ladder best designed to keep you safe and productive on the job.
Step 2 - Select the Height
How high do you need to reach? The highest permitted standing level on a stepladder is two steps down from the top so a person's maximum safe reaching height is approximately 4 ft. higher than the height of the ladder. Extension ladders should be 7 to 10 ft. longer than the highest support or contact point, which may be the wall or roof line, and the highest standing level for an extension ladder is four rungs down from the top.
Step 3 - Select a Performance (Duty Rating)
How much weight will be on the ladder while working? Ladders are designed and constructed to safely hold up to a specific amount of weight. The maximum safe load capacity of the ladder is called the Duty Rating. Keller ladders come in five different Duty Ratings identified by their grade and type. A person's fully clothed weight plus the weight of any tools and materials that are carried onto the ladder must be less than the duty rating.
Step 4 - Select the Material
Will the ladder be used near or around electricity? Keller offers ladders made from fiberglass, aluminum, and wood. Each material has characteristics which make it best for certain applications. For example, fiberglass ladders should be used for electrical work.
HOW MUCH WEIGHT WILL BE ON THE LADDER?
Simplified, impactful color coded duty rating icons make the consumers' choice easy. Extension ladders now feature matching color coded end caps to reinforce the duty rating.

Typical Uses
Painting
Yard Work
Household Chores

Typical Uses
Light Commercial
Painting
Cleaning
Light Repair

Typical Uses
General Contracting
Building Maintenance
Drywall

Typical Uses
Construction
Building
Roofing
General Contracting

Typical Uses
Heavy Duty Industrial
Construction

Utilities
Heavy Duty MRO
CHOOSE THE RIGHT MATERIAL
Fiberglass: Electrically non-conductive, great value, strong, preferred ladder material

Aluminum: Strong, lightweight, corrosion resistant

Wood: Economical, electrically non-conductive when clean and dry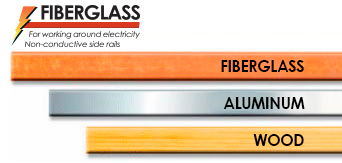 CHOOSING THE RIGHT EXTENSION LADDER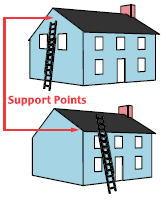 | | |
| --- | --- |
| Height to Gutter or Top Support Point | Buy this size extension ladder |
| 9' max | 16' |
| 9' - 13' | 20' |
| 13' - 17' | 24' |
| 17' - 21' | 28' |
| 21' - 25' | 32' |
| 25' - 28' | 36' |
| 28' - 31' | 40' |
CHOOSING THE RIGHT STEPLADDER
| | |
| --- | --- |
| Maximum height you want to reach | Buy this size Stepladder |
| 7' | 3' |
| 8' | 4' |
| 9' | 5' |
| 10' | 6' |
| 11' | 7' |
| 12' | 8' |
| 14' | 10' |
| 16' | 12' |
| 18' | 14' |
| 20' | 16' |